Occassionally new members ask how to post images on the Forum...
To place an image into a post, you need to insert a URL (web address) for your image into your post.
If you have your own website, you can host the images yourself. If you don't have your own website, you can use one of the free image hosting services such as:
http://photobucket.com
http://imageshack.us
http://www.imagehosting.com
http://www.freeimagehosting.net
Some social network sites, such as MySpace and FaceBook do seem to create issues, simply because in some cases the viewer has to be registered with them to see the images.
Step by Step Instructions
(1) Create an account with the Image Hosting service
(in this case,
http://photobucket.com
)
Once you have created a free account, you can then click the upload button.

(2) Upload your images.
Assuming the images are stored on your computer, click the Choose Files button to begin. It will then ask you to find where the pictures are located.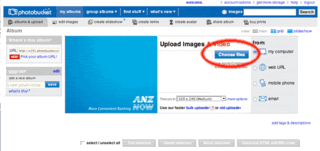 The most suitable setting for forums is 320 x 240.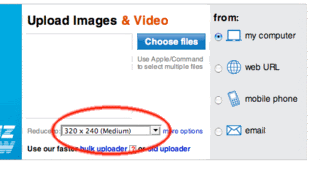 (3) Copy the location.
Once Photobucket has finished uploading the image (and prompting you for title & description), it will appear in your album. Underneath it will appear four choices of link addresses. For this forum choose the very bottom link address which is the IMG Code.
(4) Post your image on the forum.
When you reach the point in your message where you want to see your image, copy & paste that code into your post.
To see how your posting will actually appear, click the PREVIEW button, if the image appears then hit submit.
If your image doesn't appear then you have done something wrong or missed a step. Try again and if the same thing happens shoot me a pm.
Cheers