Hey guys this is my on going money pit plus small time project truck...
Pic of how I got it...
Then some el'cheapo spottys were added...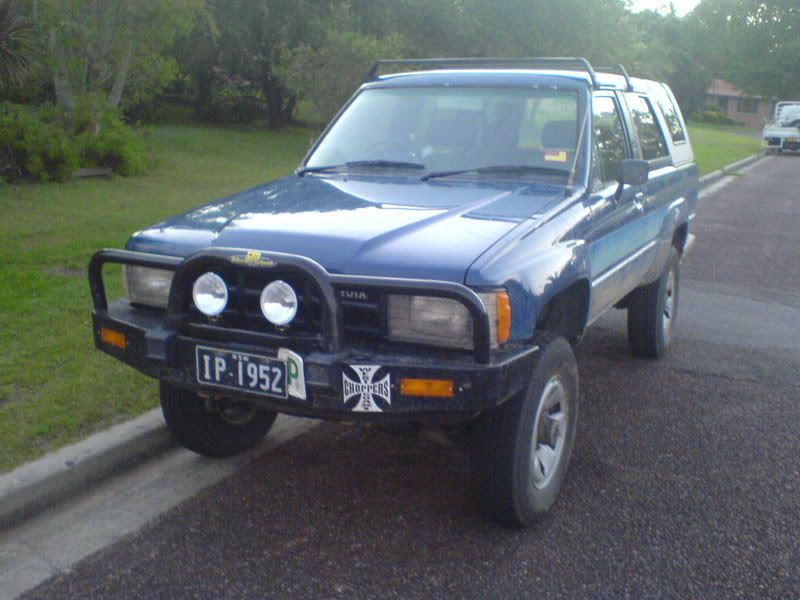 Then some muddies...
Then some better spotties...
Heres a couple of vids...
Ok so heres the nitty gritty...
When I bought the truck it had just been given the fresh coat of paint and had only 183,000 kms on it. Its the base model so there is no carpet. (which is great because I would have ripped it out anyway!)
Mods to date: (In order)
TJM Winch bar (already on the rig)
Spotties from Supercheap Auto
JVC CD player, 6" rear, Kenwood 6" front in doors
15x7 sunraysias with 31x10.5 tyres (Landcruiser offset)
Old spotties removed and replaced with Roo Lights
Uniden UHF installed where the original ash tray was
exhaust tucked up along body line and poking out the side
Custom bash plate
Upcoming Mods: (In order... sorta)
Custom rear step
roof lights
clearance lights
Custom graphics
Rock lights
New shocks all round
2" body lift
4" suspension lift
New muffler (loud muther!!)
32's or 33's (maybe)
Custom Rocksliders
Future Mods: (money dependent)
Winch
Rear spare tyre mount
Commodore fuel tank
Locked all round
Cut guards
35's
Thanks for looking... I will keep adding to it as I do stuff...
Cheers,
Jase